It's been a while since I last wrote an article here on my blog. But today, I have an important update and advice to businesses who want to restrategize their Digital Marketing Plans. Don't confuse Digital Marketing with Digital Business Transformation. In this article, I will just focus on Digital Marketing. I will definitely write something on Digital Business Transformation in the next few days as well!
As of this writing, the world is facing a pandemic. And here in the Philippines, most businesses have been closed until we reopen on May 15th, as planned so far, if lockdown will not be extended again.
I have been running a Digital company for 10 years now and I have learned so much. In the last 5 years, I focused on high-level Digital Business Transformation to reframe Digital Marketing Plans and Campaigns to help our clients succeed in Digital Marketing. It is the first digital process businesses got familiar with. (If your business is very traditional, with manual processes, doing Digital Marketing can be inefficient.)
When I started, I got different types of leads — small, medium, large, multi-national companies. It's exciting when we get inquiries from large companies, but I also love new businesses because becoming a part of something promising is what I love.
Working with various types of businesses and having clients who have different levels of digital maturity was a challenge over the years. But as the CEO, it helped me identify the market and niches where we will focus on.
As of last year, I have been reorganizing the whole company with the help of coaches, consultants, and advisors. From niche markets and segments to strategic people working on different departments. And in the past year, I regrouped everything to my new umbrella company.
If you are looking to find a Digital Marketing Consultant that fits your business, campaign, and most of all, budget, here's what I can share with you.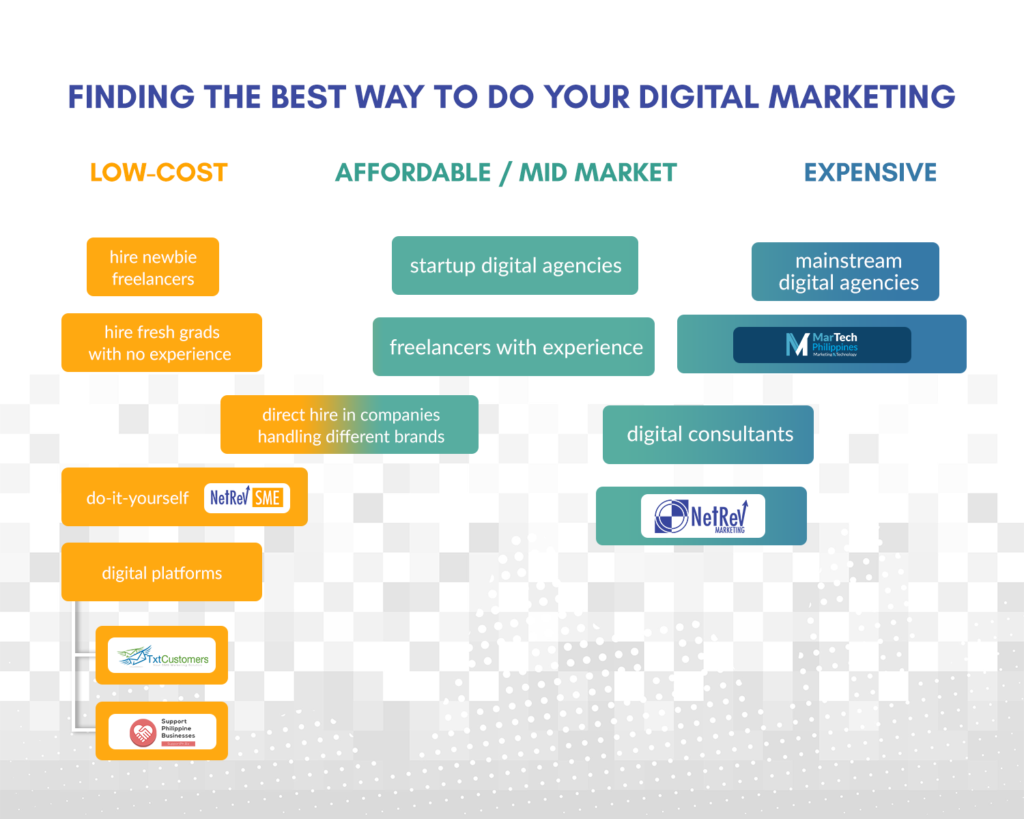 If it's your first time in my blog, let me give you a quick background about me and the things I do. For the last 5 years, I have been focusing on NetRev Marketing where in the last 2 years, we have transitioned from a Digital Marketing agency to High-level Digital Business Transformation company. In between those years, I created and developed brands like TxtCustomers, RestoHunt (currently down), MarTech, NetRev SME, and the newest one, Support PH Biz (website under development). And of course, my first agency brand is Manila Internet Marketing which is currently undergoing website redevelopment. I have been doing all of these for more than 10 years now.
Going back to the diagram, there are 3 columns: Low-cost, Affordable / Mid Market, and Expensive. Please note that what I am about to share below is based on research and my 10-year experience.
Low-cost
If you want to hire a Newbie Freelancer, you can find one starting at ₱5,000/mo to manage your company page but it depends on the project scope. I think Newbie Freelancers charge from ₱5,000 – ₱10,000 base rates per client on the average. You can also hire a fresh graduate and you can surely find some people who have internship experience in digital agencies. They may take any offer to gain experience, just don't frustrate them. lol
For businesses or companies who want to hire their own Digital Marketing Associate, they would probably start around ₱15,000 per month but if you want to hire one at this budget, you better make sure you have a Manager who can manage unless you have a lot of time to do create the strategy, develop a campaign idea, so they can do the heavy-lifting to create content, do the graphics, etc. If you're a busy SME business owner, this will take a lot of your time. Remember, when hiring full-time, there are policies, benefits, and you would probably need to provide their equipment. Hiring skilled Digital Marketing Managers will start at ₱30,000 per month or more.
Your best bet for limited budget less than ₱25,000 is working with a Freelancer or Startup Agencies. But of course, companies who want their own Digital Marketer most likely have a lot of products or brands and if this is the case, you can't rely on a one-person Digital Marketing team.
In our agency scale, we already have set a minimum monthly which means we can no longer work with businesses that have less than ₱5M annual revenue. But we found a way to work with them through the following brands we have:
TxtCustomers – a branded SMS marketing tool that small businesses can purchase for only ₱10,000 per year and buy text credits at P2.50 per text. Currently, we have an offer of free 1,000 credits (₱2,500 worth) so you can get started with your text campaign for only ₱10,000.
RestoHunt – this is a marketing platform for restaurants. Currently, it's paused due to redevelopment. RestoHunt connects restaurants to foodies.
NetRev SME – we created this digital product as guide for small businesses that want to do Digital Marketing themselves. We are currently selling our guides for only ₱2,500 at www.netrevsme.com. This is perfect if you want to learn how to promote your business online with a limited budget.
Affordable / Mid-Market
If you have digital marketing budget ranging from ₱30,000 – ₱50,000 per month, you can find startup agencies or hire a more experienced freelancer. What's the difference?
Startup agencies – I have seen a group of friends who start a digital agency. They develop content, graphics, etc. I know some startup digital marketing agencies that start from ₱10,000 to ₱25,000 per month. I think the best one you can get who really has the skills would be agencies who charge at least ₱20,000 as a base rate. Then the rest, for media ad budget.
Experienced Freelancer – a one-person team who is multi-skilled with creating content and graphics. Sometimes they charge from ₱10,000 per client but can be priced like a startup agency or more. Again, it really depends on how talented the Freelancer is. We are talking about a Freelancer with at least 1-2 years of experience. If you know Digital Marketing and need someone to execute your ideas, this is your best bet.
For SMEs who can afford at least ₱50,000 per month, we can work with them at our digital agency, NetRev Marketing. We do a high-level Digital Marketing Plan from strategy to development to execution. We have systems and processes and software tools. Because if you are going to take Digital Marketing seriously, you will need the following:
Digital Marketing Plan – your high-level strategy for SEO, PPC, social media, email marketing, etc.
Digital Marketing Campaigns – we'll help you with campaigns throughout the year like Summer, Valentine's, Christmas, etc.
Social Media and Community Manager – someone who will reply to comments and messages on your business page. The Social Media Manager helps you create a strategy and campaign.
Digital Ad Manager – someone who will create digital ads on Google, Facebook, Instagram.
Graphic Artist – someone who will create all the marketing collaterals.
If you are going to hire that kind of team for your company, you will spend more ₱200K-300K plus all other expenses — office supplies, HR, taxes, etc.
In our agency, you will have a dedicated Project Manager who manages everything. When you work with us, our teams have those skills.
On the mid-market, you can also hire a Digital Marketing Consultant who will manage your freelancers and within your budget. They will charge you a recurring consulting fee and management fee to handle your campaigns.
At NetRev Marketing, you have a Digital Marketing Consultant, Project Manager, and a team that works on various campaigns and channels. Depending on your digital maturity and scope of work, our services are affordable and mid-expensive compared to hiring people full-time.
Expensive
For larger companies, they have a lot of products and brands that need Digital Marketing. From a distributor who has products for retail to large brands in consumer retail. They usually have Digital Marketing teams in different brands/departments/units. These companies have their own resources, have people, and own technology.
In this segment, we work with companies who want to start their E-commerce or Digital Marketing teams. Or if they are already challenged in managing their in-house Digital Marketers due to lack of skills, they can outsource this to digital agencies or hire freelancers to cut costs. Some work with mainstream agencies but I know that companies are now investing in Marketing Technology to have their own Data and Analytics along with their in-house team. They save millions when they own data that they can market to, basically, they can market directly to consumers.
Is hiring in-house effective to you or is it already costing you more money because your team will leave the company and the digital projects are left hanging, just when you invested in digital tools and software? People and teams are very important to any digital project.
At NetRev Marketing, we can help companies with high-level Digital Marketing strategies and Marketing Technology (MarTech). From campaigns, processes, systems, and people. Do you need Digital Marketing or is it time to level with Digital Business Transformation?
I know there is a huge demand for Digital Marketing skills and because of this, people are going freelance or starting new agencies. Those who are working in companies can get bored with the culture and they would want to work outside the office. Digital Marketers are creative people and love working in great environments. And with growing Work From Home arrangements, I can already imagine how the pandemic will again reshape the Digital Marketing industry.
I will make another post on the Pros and Cons of working with freelance and agencies. But for now, I hope this article helped! I'm sure a lot of companies are looking for Digital Marketers right now.
Do you want to Restrategize Your Digital Marketing Plan? Here are some things you can do:
Check out NetRev SME and use our eBooks as a guide. We have a lot of exciting things in store this year! We are now forming a new online community where we will share tips and insights just like this one.
Book a FREE Consultation with me if you have at least ₱1M to spend on annual marketing and advertising budget. Click this link if you want to discuss your project.
That's all for now. Thank you for your time!